verbindingen maken met een cisco router/switch
 
Als je een echte router wil gebruiken, en die is nog niet geconfigureerd, kun je alleen een verbinding maken via een seriële kabel. In Packettracer heeft die een blauwe kleur, en je verbindt de RS232 poort van de PC met de CONSOLE poort van de cisco ...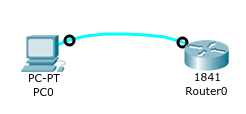 Nu moet je de terminal op de desktop van je PC gebruiken om je te verbinden met de cisco. De standaard settings, staan nu nog goed: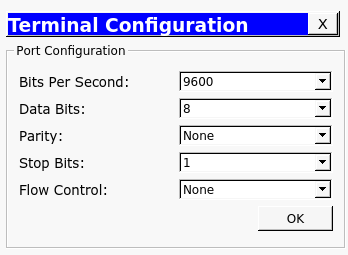 [ om een echte router via de console poort te configureren heb je een cisco serële blauwe kabel nodig, en een seriële poort op je laptop: meestal een USB to RS232 converter, een driver voor de USB-converter, en software om RS232 te kunnen gebruiken (vb putty)]
 
Een van de eerste dingen die we moeten instellen is een paswoord op de console toegang, dat doen we als volgt:
Router>  enable
Router#  configure terminal
Router(config)#  enable secret xyz12345
Router(config)#  exit
Router#  copy running­config startup­config
Destination filename [startup­config]?  <ENTER>
Building configuration...
[OK]
Als je de router nu herstart ...
Router# reload
Proceed with reload? [confirm]  <ENTER>
... wordt er gevraagd om je paswoord:
Router>  enable
Password:  xyz12345
Hierbij valt op te merken dat de encryptie van dit standaard secret belachelijk slecht is, en er zijn websites op het internet waarmee je het 'secret' in je show run in omgekeerde richting kan omzetten !!! U weze gewaarschuwd.

enable passwords and secrets on serial ports and vty
 

Setting the enable secret password:
 
Router(config)# enable secret ccna2
 
Setting the console password:
 
Router(config)# line con 0
Router(config­line)# login
Router(config­line)# password ccna
 
Setting the auxiliary port password:
 
Router(config)# line aux 0
Router(config­line)# login
Router(config­line)# password ccna
 
Setting the Virtual Terminal (Telnet) password:
 
Router(config)# line vty 0 15
Router(config­line)# login
Router(config­line)# password ccna
 
Voor ssh doen we het volgende:
 

Router(config)#  hostname r1
r1(config)#  ip domain­name linux800.be
r1(config)#  crypto key generate rsa
The name for the keys will be: r1.linux800.be
Choose the size of the key modulus in the range of 360 to 2048 for your
General Purpose Keys. Choosing a key modulus greater than 512
may take a few minutes.
How many bits in the modulus [512]:  <enter>
% Generating 512 bit RSA keys, keys will be non­exportable...[OK]
r1(config)#   user weareroot secret sdf1234567
r1(config)#  line vty 0 4
*Mar 1 0:4:8.639:  RSA key size needs to be at least 768 bits
for ssh version 2
*Mar 1 0:4:8.639:  %SSH­5­ENABLED: SSH 1.5 has been enabled
r1(config­line)#   login local
r1(config­line)#  transport input ssh
r1(config­line)#  end

Op de client host:

$  ssh ­l weareroot 192.168.1.1
Open
Password:  <sdf1234567>
r1>